Jesus said to him, 'You shall love the Lord your God with all your heart, and with all your soul, and with all your mind.'

And, ' You shall love your neighbor as yourself.'
CENTRAL CHRISTIAN CHURCH PRESENTS MESSIAH
The Music Ministry of Central Christian Church will present the Christmas portion (part I) of George Frideric Handel's Messiah on Sunday, December 10, 2017 as a part of the 9:30 a.m. worship service.  The performance will be accompanied by a chamber orchestra and will feature the Chancel Choir of Central Christian Church with soloists Dr. Andrew Campbell, Mosha Clyma, Genevieve Fulks, Kelly Ann Johnson, Abby Mercer, Michael Payne, and Asher Tillman.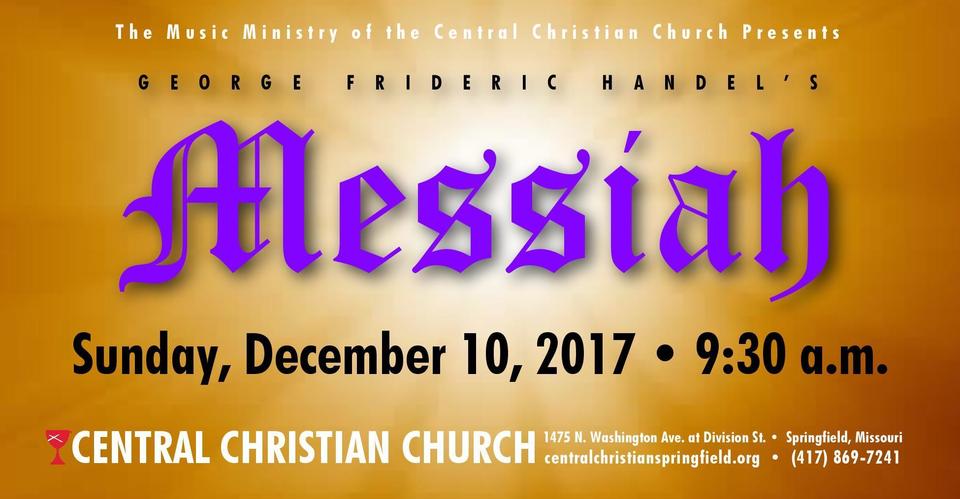 Donate to Hurricane Harvey, Hurricane Irma, and Hurricane Maria Relief Fund
As the efforts for those who were affected by Hurricane Harvey and Hurricane Irma are underway, we understand that this is going to be a long and drawn out process.  We stand with our brothers and sisters in the Houston area, sending prayers and wishing for the best, but we also can send our gifts to them.  If you would like to donate to the efforts, you can do so through the church.  We will be sending all gifts given, to Week of Compassion, who will be sending 100% of all donations recieved to the Houston area.

If you would like to give, please click on the Online Giving Tab above and follow the directions.  Thank you for your support of our fellow human beings and for following the teachings of Christ we hear in Mark 12:31, to "love your neighbor as yourself."